India interest rates on hold as bank reserve ratio cut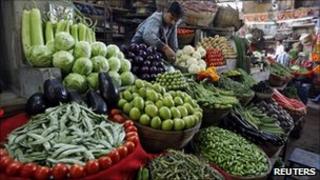 India's central bank has kept interest rates unchanged, despite signs that the country's economy is being hit by a global slowdown.
However, in an effort to boost lending, it cut the amount of money that banks need to keep in reserve.
It said cutting the cash reserve ratio to 4.25% from 4.5% would inject 175bn rupees ($3.2bn; £2bn) into the market.
Critics have called for more stimulus measures, and the Indian rupee and stocks fell on the news.
"There was definitely lot of expectations in the markets for a rate cut, but people will have to wait for some more time," said Srividhya Rajesh, fund manager at Sundaram Mutual Fund.
"It is disappointing for the markets."
'Doesn't make sense'
This is the second time in as many months that India's central bank, the Reserve Bank of India (RBI), has cut its cash reserve ratio.
The latest move comes ahead of the festival of Diwali in November, which is traditionally associated with a jump in consumer spending.
People buy new products raging from electronics to cars and jewellery on auspicious days during the festival season.
The hope is that increased liquidity may spur consumer demand even further and help to boost growth.
However, some analysts were sceptical over whether the move would have the desired effect, not least because the cost of borrowing continues to remain high.
The RBI left its key interest rate unchanged at 8%.
"If a CRR cut is not backed by a rate cut it doesn't make sense," said Deven Choksey chief executive of KR Choksey, a Mumbai-based brokerage firm.
"Banks will be pressurised to lend, but buyers might not feel confident about spending after borrowing at high rates."