Apple's Scott Forstall and John Browett to leave firm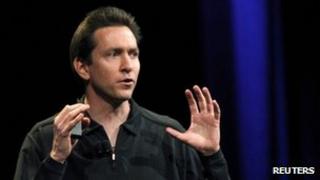 Apple has announced a major shake-up of its management, with two senior executives to leave the company.
The announcement follows embarrassing problems with its new mapping software and disappointing quarterly results.
Scott Forstall, head of its iOS software, will leave next year. He will serve as an adviser to chief executive Tim Cook in the interim.
Head of retail John Browett, the former Dixons boss, is also leaving after just six months in the job.
Apple said the moves were a way to increase collaboration across its hardware, software and services businesses. No specific reasons were given for either man's departure.
As part of the changes, Sir Jonathan Ive, who runs the team designing Apple's hardware, will also oversee the user experience on its software.
Mapping problems
The company faced a barrage of criticism after its new mapping software, introduced last month, showed inaccuracies and misplaced towns and cities.
The maps debacle led to Mr Cook issuing an apology to customers, while some critics called for Mr Forstall's head as he was the executive behind the panned app.
Mr Forstall joined Apple in 1997 when the technology giant purchased Steve Jobs' start-up Next, and he is credited as one of the original architects of Mac OS X.
A profile in Businessweek called him the "best remaining proxy for the voice of Steve Jobs", the iconic co-founder of Apple, for his strong views on how consumer technology should function and was responsible for the development of iOS, the operating system on iPhones and iPads that bring in most of Apple's money.
But he was reportedly unpopular with the rest of senior management.
There are several reports that he refused to sign the apology that Mr Cook eventually issued for the maps disaster.
Mr Forstall made almost $39m this year from selling shares, and is likely to be in high demand from rival firms in Silicon Valley.
Craig Federighi will lead both iOS and OS X now, while Sir Jonathan will take on responsibility for the design of "human interface" in its software.
One analyst said Sir Jonathan - responsible for much of the look of the iPod, iPhone and other devices - could now help reinvigorate the look of Apple's software, which has been slower to evolve than Google's Android.
"If you have two different heads, you have two different fiefdoms," said BGC Partners analyst Colin Gillis.
'Relentless focus'
Mr Browett left British electronics chain Dixons to take up his post with Apple in April this year. His efforts to cut back staffing at the firm's stores provoked a backlash and U-turn, all of which was leaked to the press.
The search for his successor is already underway, with stores reporting directly to chief executive Tim Cook in the meantime.
The management changes come a little over a year into Mr Cook's reign as chief executive.
"We are in one of the most prolific periods of innovation and new products in Apple's history," Mr Cook said.
"The amazing products that we've introduced in September and October... could only have been created at Apple and are the direct result of our relentless focus on tightly integrating world-class hardware, software and services."
Mr Browett was seen as one of Mr Cook's key recruitments. The fact he has moved him out after such a short period of time may be seen as the Apple boss demonstrating a ruthless, but perhaps efficient streak.
"These changes show that Tim Cook is stamping his authority on the business," Ben Wood, analyst with CCS Insight, said.
"Perhaps disappointed with the maps issues, Forstall became the scapegoat."
Apple's fourth quarter profits of $8.2bn (£5bn) reported last week, also missed Wall Street forecasts, while the 14 million iPads it sold in the quarter fell short of analysts' expectations.