Youth unemployment: The big question and South Africa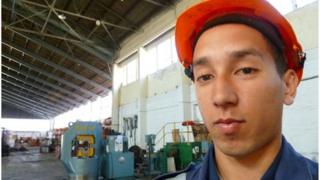 South Africa may be the largest and most developed economy on the African continent, but the unemployment rate for younger people has been running as high as 50%, prompting a nationwide debate about schemes where companies get paid for taking on young workers.
The extent of youth joblessness, and its associated poverty, is acknowledged to be a major contributor to South Africa's high crime rate. And in some urban centres it is fuelling drug-related gang culture.
'Couldn't get skills'
Chad Harding, from Cape Town, left school with good exam results and high hopes. But, like many young South Africans, he struggled to find a job.
"I was just stuck at home waiting, waiting for something to come up," he said.
"I was frustrated, I had no money and even though I was giving in my CV to everyone, no-one called back.
"It's very hard to find work when you are young. They want people with skills and experience, but I couldn't afford to study to get more qualifications and, as I wasn't working, I couldn't get the skills."
He has, however, now found a job thanks to a local government scheme which gives young people six-month work placements and pays them a basic monthly wage of 1,200 rand ($140; £85).
Chad was kept on after his training placement finished, and the 21-year-old is now qualified in rigging for the construction and off-shore oil industries.
"I do feel like I have a career ahead of me now that I am trained in rigging. There will always be work for me," he said. "Many of my friends, though, are still at home doing nothing and it's years since we left school, so it's hard for them."
Chad is one of nearly 3,000 18 to 35-year-olds to have gone through the Western Cape Work and Skills Programme since it launched in 2009.
Companies who have taken part include South African supermarket chain Shoprite Checkers, hotel group Radisson Blu and diary producer Parmalat. But a number of smaller firms have also hired trainees.
Johan Kruger, managing director of Anchor Rigging and Testing Services, which has had 40 trainees including Chad, said: "There's a huge need for upskilling people, particularly in our industry. The older generation artisans are starting to go into retirement and so we need to bring in new young people."
Exploitation or opportunity?
At Prestige Clothing, a small textiles factory in the town of Caledon, about an hour and half's drive from central Cape Town, Nico Lawens has just begun a six-month work placement.
The 26-year-old, who lives with his grandmother and school-age cousins, spent six years relying on piecemeal contract jobs that he would sit at the side of the road and wait for.
He had almost given up hope of getting formal employment when he got his break.
In between taping up cardboard boxes ready to be filled with freshly-sewn t-shirts, he said: "I just did odd jobs basically and sometimes I would only get around 50-80 rand a day. It was never enough and we had to live on my grandmother's old age pension, so it was hard.
"I am very grateful for this opportunity to work. I may be just doing the boxes for now, but maybe in five years I can be working in the HR department."
"Before I was at home and I did earn nothing. But this is bread for me on the table and I can help my grandmother. I am very grateful for this opportunity."
Prestige HR manager Teresa Bosman denied that by taking on the trainees, and not having to pay their salaries for the first six months, her company was simply exploiting younger workers to save money.
"It's very difficult in rural areas to find qualified clothing industry workers, and therefore we have the opportunity to train up these youngsters to become qualified workers," she said.
"I wouldn't say it's exploitation because these people did not have an income before."
Political divide
Alan Winde, Finance and Economic Development Minister for the Western Cape, a province run by the main opposition party, the Democratic Alliance (DA), said he believed the scheme helped young people "to get a foothold" into the labour market.
"This is an intervention that really makes young people employable and the retention rate within companies is more than 60%," he told the BBC, disagreeing with the argument from trade unions that it displaced older workers.
"We cannot allow these huge rates of youth unemployment to fester because it puts our whole system at risk. We have seen what has been happening across the world, specifically driven by young people without hope or opportunity."
While everyone agrees South Africa's joblessness must be tackled, not everyone is so evangelical about the Work and Skills Programme and the concept of a Youth Wage Subsidy.
In 2010, the central government set aside a fund of 5bn rand to create 423,000 new jobs for "less-skilled" people aged between 18 and 29 years old using a Youth Wage Subsidy.
But the plan was blocked by the country's powerful trade union federation Cosatu (Congress of South African Trade Unions), which is a formal alliance partner of the ruling African National Congress (ANC) and holds much policy sway in the country.
Tony Enhenreich, Cosatu's Western Cape Provincial Secretary, said: "We completely support the fact that we've got to put in special measures to make sure young people come into employment but we cannot be subsidising the profits of bosses.
"All that we have seen in other countries, where similar measures have been implemented, is the displacement of the older workers for the younger workers."
"What we should be looking at is to restructure the economy, create specific measures to support young people directly, rather than supporting the bosses. Here in the Western Cape, this scheme has just filled jobs that were already there," he added.
The Youth Wage Subsidy is certainly a contentious political issue in South Africa.
There have been a number of public demonstrations, for and against the policy, including violent clashes at a march in Johannesburg in May.
The debate looks likely to continue for some time although, for many young South Africans, what matters is not how they get into work, but when and if.