Hurricane Sandy to close US markets for second day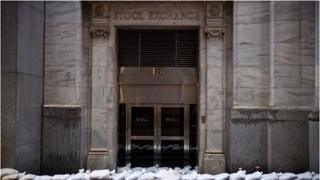 Hurricane Sandy has severely disrupted dealings in the US, closing stock exchanges and curbing government bond trading.
The New York Stock Exchange and the Nasdaq closed on Monday and will remain shut on Tuesday.
The Federal Reserve Bank of New York was open, but some government bond trading had to be rescheduled.
This is the first time in 27 years the stock markets have closed for a full day due to adverse weather.
In September 1985, Hurricane Gloria forced a market shutdown.
Some of New York's financial district is in the evacuation zone and major banks such as Goldman Sachs and Citigroup told staff not to go into work.
The closure of New York's transport system meant many employees were not able to get to work in any case.
The NYSE said the hurricane would "make it extremely difficult to ensure the safety of our people".
Although US banks with London offices have effectively moved their activities temporarily from New York to London, the shutdown meant fewer traders in the market.
Analysts said this meant there was little reaction to a Commerce Department report on Monday that showed consumer spending grew by a better-than-expected 0.8% in August.
Economic impact
In effect, the hurricane has prompted an unscheduled day off for US financial workers, although the more senior people will still be able to make deals should they wish to or need to.
The closing down of public transport along the US East Coast means millions of people won't be able to get to work. Air traffic to and from the region has also been severely disrupted.
President Obama said he was confident that all the preparations to deal with the storm's arrival were now in place, but warned the hurricane would cause many days of severe disturbance.
He added that he was not worried about the impact on the upcoming presidential election.
"I am worried about the impact on families and I am worried about the impact on our first responders. I am worried about the impact on our economy and on transportation. The election will take care of itself next week."
Disaster modelling experts say the economic cost of Hurricane Sandy could be up to $20bn, topping last year's Hurricane Irene, which cost $15.8bn.
But for the overall economy, damage from the storm is likely to be limited, analysts say, with any economic growth lost in the short term likely to be restored once reconstruction begins.
Heating
Oil prices, generally sensitive to weather-related events, were all but flat, with Brent crude at $109 a barrel and US crude at $85. Stocks of crude oil are adequate and demand for oil could be constrained by limited capacity at refineries.
About 70% of refineries on the East Coast have shut and dealers are braced for potential floods and power shortages that could damage production and limit supplies further just as the cold weather begins to set in.
Heating oil and gasoline prices on markets are at record high levels compared to crude oil values.
Foreign exchange business was handed over to London and some staff stayed late to cover New York trading hours until the time of the normal handover to Asia.
A statement from Citigroup said it would be able to provide its normal range of services to clients: "Although our sales, trading and investment banking operations in New York City are based in an evacuation zone, we are implementing our contingency plans to ensure continuity of operations and expect to be able to fully serve our clients during this event."
The Federal Reserve Bank of New York said in a statement it was continuing to evaluate market conditions and would make announcements regarding other Federal Reserve operations "as needed".
Duncan Niederauer, chief executive of the NYSE's parent company, NYSE Euronext, told the broadcaster CNBC it was "hard to imagine" that the exchange would open on Tuesday.
There had been fears the hurricane would delay the monthly jobs data, the non-farm payrolls, on Friday, which is the last major update on the state of the economy before the US presidential election next week.
Jobs are one of the most important election issues in the US and have been a hotly debated topic between President Obama and his challenger Mitt Romney.
The Bureau of Labor Statistics said it intended to release the October employment report as scheduled on Friday.
Labor spokesman Carl Fillichio said in a statement: "The employees at the Bureau of Labor Statistics are working hard to ensure the timely release of employment data on Friday.
"It is our intention that Friday will be business as usual regarding the October Employment Situation report."
Cancellations
Company events have been interrupted.
Google had to cancel an event in the city to promote the launch of its latest smartphone, the Nexus 4.
Air France, British Airways and Virgin Atlantic grounded all flights to East Coast cities.
The pharmaceutical giant, Pfizer, is among a number of companies that have postponed earnings reports.
People on the East Coast have been told to brace themselves for winds of 75mph and a potential "life-threatening" flood to the Mid-Atlantic coast.
Several states have declared emergencies, with tens of millions of people affected as schools are closed and transport services suspended.
These include Maryland, New York, Pennsylvania, Virginia, Washington DC and a coastal county in North Carolina.