Sinopec profits decline 9.4% in third quarter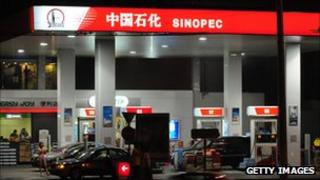 China Petroleum & Chemical Corp (Sinopec) Asia's largest refiner, has posted a decline in profits, as demand for petrochemicals suffered in China's slowing economy.
The company saw its net profits drop 9.4% to 18.3bn yuan ($2.92bn; £1.82bn) in the three months to 30 September from 20.2bn yuan a year earlier.
The higher cost of crude oil also hurt Sinopec's refining margins.
China's economic growth has slowed for seven straight quarters.
"In light of the market situation, we have actively lowered the operation utilisation of our chemical facilities," Sinopec said.
Analysts said Sinopec's petrochemical business swung to a loss in the July to September period.
In its earnings report to the Hong Kong Stock Exchange, Sinopec said output of ethylene, used to make plastic, decreased 4.5% to 7.02 million tonnes in the first nine months of the year.
Synthetic resin production also fell 1.1% to 9.96 million tonnes.
That has offset the benefit to the refiners from the recent rises in gasoline and diesel prices.
China's government tightly controls the cost of fuel to keep inflation in check.
The fuel-pricing system prevents companies from fully passing the higher crude costs on to customers.
In September, China's government allowed a 6.1-6.5% rise in the price of refined petroleum products to reflect higher global oil prices.
Analysts said that if inflation stays low the government could have greater flexibility to raise fuel prices again, which would benefit refiners such as Sinopec.