House prices driven by London, Land Registry data shows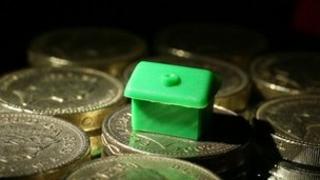 House prices dipped in September in England and Wales compared with the previous month, but rose 1.1% compared with a year earlier, a report has said.
The annual increase was driven by a 5.5% rise in property prices in London, the Land Registry said.
The Land Registry data is widely considered to be the most comprehensive house price index.
Other surveys have suggested that the UK housing market was lacklustre at the beginning of autumn.
On a monthly basis, prices in England and Wales fell by 0.3% in September, bringing the cost of the average home to £162,561.
However, year-on-year there are notable regional differences. In the capital prices rose by 5.5% but, at the other end of the scale, in the North East of England they dropped by 3.2%, pushing the average property price in the region below £100,000.
Buying agent Gabby Adler said: "'While prices fell in parts of the country, the picture in London is very different. In parts of the capital the competition is very hot indeed, with a rise in the use of sealed bids for good properties, with four or so buyers often competing for a particularly desirable home.
"In such a scenario, the property will often achieve more than the asking price."
Some groups have suggested that a house-building programme would put some life into the UK housing market.
The Future Homes Commission, set up by the Royal Institute of British Architects, said council pension funds could be used to finance the building of 100,000 to 300,000 homes in the UK.
Some of the assets in local government pension schemes could be pooled to provide a £10bn housing fund, it said.