Penguin and Random House: Mergers 'inevitable for some time'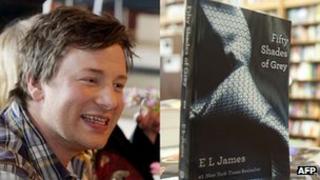 Big mergers in publishing have been "inevitable for some time since Amazon got so big", the editor of The Bookseller magazine has said.
Philip Jones was responding to news that the Pearson group is in talks about a merger between its Penguin unit and rival publisher Random House.
Random House is the UK's biggest publisher, while Penguin is third.
The former head of Borders UK, Philip Downer, told the BBC they needed to merge to stand up to Amazon or Apple.
"It's a recognition that they don't individually have the scale to be able to stand up to companies like Amazon or Apple," Philip Downer, former chief executive of Borders UK who now runs the retail consultancy Front of Store, told the BBC.
Book industry commentator Alistair Burtenshaw agreed that, "negotiating power is becoming ever more important".
"The media landscape has changed a great deal with the arrival of Apple, Amazon and Google. Publishers need to be able to leverage their content across the widest range of platforms," he said.
He added that while there was concern from some of the agents who represent authors that there would be fewer places to go to sell their books, the tie-up would actually be important for authors.
"Publishers will be able to represent authors with greater strength - it is important to be able to go into discussions with a strong proposition," he said.
But Kate Pool from the Society of Authors doubted whether that would be the case.
Over the years publishers have never stood up to retailers as much as they should," she said.
They've given bigger and bigger discounts even when the biggest retailer was a somewhat smaller Waterstone's, and I don't know that this merger would make much difference to that."
Philippa Milnes-Smith from the agents Lucas Alexander Whitley said: "Given the size of the global giants you can see where the attraction is."
"But what authors and readers need is for publishers to be in places where creativity flourishes and size by itself has never delivered better books or better publishing."
Prestige holdings
The merger of Penguin with Random House is seen as a key part of Pearson's plans to concentrate on its educational businesses.
Pearson chief executive Marjorie Scardino is stepping down at the end of this year and will be replaced by John Fallon, currently head of Pearson's International Education division.
There has been much speculation that he could decide to spin-off or sell Penguin or the Financial Times.
Mr Downer said that the big trade publishers were looking a bit out of place in the media conglomerates that own them.
"What were, 10 or 20 years ago, prestige holdings now look more challenged in a multimedia world," he said.
A merger between Penguin and Random House would be the biggest tie-up in the industry since the Lagardere bought Time Warner books to create Hachette in 2006.
It would bring together the publishers of the Fifty Shades series and Jamie Oliver's cookbooks.
"The two companies have not reached agreement and there is no certainty that the discussions will lead to a transaction," Pearson warned in a statement to the London Stock Exchange.
Selling businesses
Even if they do reach an agreement, competition regulators may object to the tie-up, which would give the combined group more than a quarter of the UK and US markets.
"They should be able to negotiate their way into this merger by selling peripheral parts of their businesses and keeping themselves below a 25% market share," said Philip Jones from The Bookseller.
"If they are prepared to allow Amazon to have 90% of the e-book market in the UK and 80% in the US, they can't really block a merger that is responding to it."
The Financial Times, which is also owned by Pearson, quoted sources saying that if the talks were successful, Bertelsmann would end up with more than 50% of the combined publisher.
"On the down side it would leave much less competition among publishers for authors," said Liz Thomson from the book industry website Bookbrunch.
"On the plus side Random House is quite a creative publisher - they do allow their imprints to flourish," she told BBC News.
"So there's a mixture of things, but I think one would say overall it is not a good thing for the industry."