Apple profits miss expectations on slower iPad sales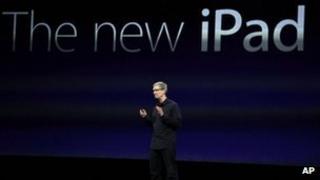 Apple's fourth quarter profits missed Wall Street forecasts as iPad sales fell short of analysts' predictions.
Profits in the last three months were $8.2bn (£5bn), up from $6.6bn last year, with revenues of $36bn, up 27%.
Apple sold 26.9 million iPhones in the quarter to 29 September, higher than forecast, and 14 million iPads.
The slower iPad sales was put down to consumers delaying purchases on rumours that Apple was launching an iPad Mini, which was unveiled on Tuesday.
"We were happy with the 14 million iPad sales in the quarter. It exceeded our expectations," said Apple finance director Peter Oppenheimer. "But as the summer went on, the rumours were pretty rampant about the iPhone and iPad."
Apple shares fell 1.5% in after hours trading on Wall Street, although analysts said the lower numbers should not be of too much concern.
Shaw Wu, analyst at Sterne Agee, said: "The iPhones came in better than expected. The shortfall was on the iPad for two reasons. There was a pause on the iPad ahead of the iPad Mini. Everyone was waiting for that. Then they replaced the third generation iPad with the fourth generation."
"They stopped shipping the third generation to the channels. So it was customers waiting for the iPad mini and drawing down the third generation."
'Very confident'
Attention will now turn to the iPhone 5, which has been on sale for nine days, as the market enters the run-up to the key Christmas spending season.
Tim Cook, Apple's chief executive, said in a statement: "We're entering this holiday season with the best iPhone, iPad, Mac and iPod products ever, and we remain very confident in our new product pipeline."
Apple said that it sold 4.9 million Macintosh computers in the latest quarter, a 1% rise from the same three-month period last year. However, sales of iPods fell 19% to 5.3 million, according to the earnings report.
The fourth quarter figures took Apple's profits for the year to $41.7bn, up 45% on 2011, with revenues of $156.5bn, a 61% increase.