S&P cuts French banks' credit rating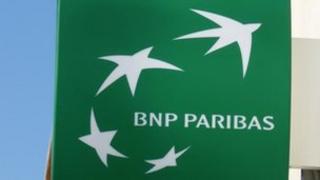 Three French banks including BNP Paribas have had their credit rating downgraded by ratings agency Standard and Poor's (S&P).
Explaining its decision, S&P said that French banks faced increased economic risks, which left them "moderately more exposed to the potential of a more protracted recession in the eurozone".
The other two lenders to be downgraded are Cofidis, and Banque Solfea.
S&P also warned that 10 other banks might be downgraded in the future.
These 10, which have been placed on a negative outlook, include Credit Agricole and Societe Generale.
S&P has lowered its long-term rating on BNP Paribas from AA- to A+.
Banque Solfea has been cut from A to A-, and Cofidis from A- to BBB+.
S&P said French banks faced problems including "a relatively high public debt burden, reduced external competitiveness, and persistent high unemployment, which are being aggravated by the ongoing eurozone crisis, a more protracted recession across Europe, and lower domestic growth prospects".