Elderly face cash access strife, says Payments Council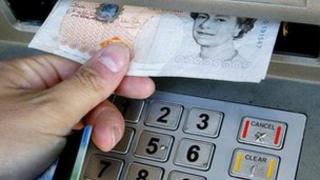 Elderly and disabled people struggle to access cash and resort to sharing their personal banking details, research has claimed.
They find it difficult using new technology and cash machines, and may find it tough getting to bank branches.
So they end up sharing passwords, card details and Pin numbers with family and friends, the report for the Payments Council said.
This compromises their financial security, the report concludes.
Cash machine trouble
The research, written by consultants Policis and charity Toynbee Hall, studied the experiences of people in the UK aged over 80, or who had cognitive, physical or sensory impairments.
They found examples of practical problems these people faced with trying to cope with their personal finances.
These included the lack of disabled parking at bank branches, difficulties using ATMs that differed in design, and challenges using internet banking.
Cash machines were a particular problem for some who found the buttons fiddly, found the screens hard to read, and were unable to remember a Pin code.
The report concluded that, as well as these problems, some people had a lack of confidence using new technology, and were unaware of some schemes available to them, such as chip and signature, rather than chip and pin cards.
"This research paints a vivid picture of the range of challenges that are faced by older and disabled people and will play a crucial role in ensuring their needs are placed front and centre of plans to improve our payment systems," said Stephen Locke, a director of the Payments Council.
"Our focus is on how barriers can be removed and where different choices could help people overcome the obstacles they are experiencing."
The lack of options for elderly and disabled people was a key factor in the Payments Council backtracking on a plan to phase out chequebooks.