Kingfisher Airlines workers call off strike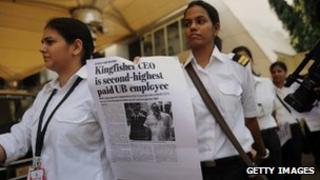 Workers at India's Kingfisher Airlines have agreed to call off their strike after the cash-strapped carrier offered to pay three months of salary.
The staff have not been paid for seven months and there had been speculation they may not accept the airline's offer, made earlier this week.
Kingfisher's licence has been suspended amid concerns over finances and safety.
It still needs to submit a plan on how it intends to secure its future to get permission to fly again.
"All employees have agreed to resume duty right now. They are on duty as we speak," Kingfisher chief executive Sanjay Aggarwal was quoted as saying by the Reuters news agency.
"We are all in this together and looking forward to getting the airline going in the next few weeks."
'Bigger issue'
A deal with staff is the first of many hurdles that the airline needs to cross if it is to get its flying licence restored.
It currently has debts of $1.4bn (£870m) and owes money to airports and tax authorities as well.
Its accounts were frozen by the tax authorities earlier this year.
Kingfisher's biggest lenders, which include the State Bank of India, have refused to extend it any fresh credit, which has raised concerns about how it will fund its operations.
Until the airline can convince the regulators that it has the resources to run its operations smoothly and without further interruptions, it may find it tough to get its licence back.
"Salary is a big issue and the employees should be paid. But the bigger issue than that is their fiscal assurance to the Director General of Civil Aviation (DGCA)," Ajit Singh, India's civil aviation minister was quoted as saying by the Press Trust of India.
He said the company owed money to the Airports Authority of India, to companies, and to its creditors, "so it's not just a question of salaries to the employees".
"To allow them to fly again, the DGCA has to be satisfied on many more things," he said.