Hyundai Motor earnings hurt by strikes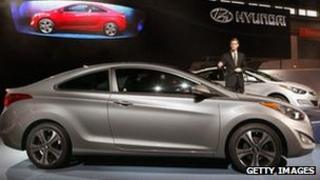 Hyundai Motor's profit dipped in the third quarter as strikes in the wake of a labour dispute during the period hurt its production.
Net profit was 2.17tn won ($2bn; £1.2bn) in the July to September quarter, down from 2.5tn won in the previous three months.
The strikes, which started in July, cut production by nearly 82,000 vehicles.
However, profit was up 13% from a year earlier and is expected to rise further as the dispute has since been resolved.
"After a blip in the third quarter, Hyundai will return to record earnings in the current quarter," said Kim Seung-Hwan an analyst at Golden Bridge Investment & Securities.
Growth worries
The South Korean carmaker has seen robust growth in recent years, driven by increased sales in key markets such as the US, Europe and China.
However, analysts said that while the firm's sales were expected to keep rising, the pace of growth may slow down.
They cited slowing economic growth in key markets, the strength of the Korean currency and the fight back by Japanese carmakers as key threats to Hyundai's future growth.
Economic conditions in the eurozone and US remain fragile, while China's economic growth has also slowed in recent times, which analysts said may hurt consumer demand.
At the same time, the South Korean won has risen 7% against the US dollar since June this year. That not only makes Korean cars more expensive for foreign buyers but also hurts profit margins of firms.
Meanwhile, the Japanese currency has fallen nearly 3% against the US dollar during the same period providing a boost to Japanese carmakers' recovery from last year's natural disasters.
Analysts said given these developments, Hyundai may find it tough to maintain a high rate of growth.
"It'll be a challenge for Hyundai to come up with a magic growth formula," said Ohm Joon-O, a fund manager at Kiwoom Asset Management.