Sharp shares fall more than 6% on reports of big net loss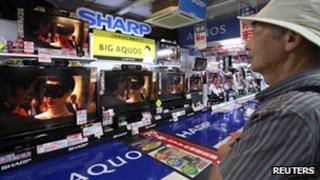 Shares of liquid-crystal display maker Sharp fell more than 6% on a report of a bigger-than-expected net loss for the April to September half-year period.
The Nikkei business daily said Sharp would post a net loss of 400bn yen ($5bn; £3.1bn).
Sharp, in August, had forecast a loss of 210bn yen for the same period.
Sharp has promised to sell off assets, and trim its workforce by about 10,000 in an effort to return to profit.
The company is headed for its second straight year of losses as demand for TV's slows and a strong yen cuts into overseas profits.
Last month Sharp received a $4.6bn bank bailout.