Nike sells Umbro to Iconix Brand Group for $225m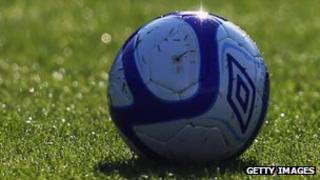 Sportswear giant Nike has agreed a deal to sell UK sports brand Umbro to US clothing company Iconix Brand Group for $225m (£140m).
Nike announced earlier this year it was looking to sell the Cheadle, Manchester-based firm, which specialises in football kits.
The deal is expected to go through by the end of the year.
Iconix owns a number of clothing brands, including Madonna's Material Girl and rapper Jay-Z's Rocawear.
"It is difficult to divest any business, but this action will enable us to focus on our highest-potential growth opportunities," said Nike boss Mark Parker.
"Umbro has a great heritage but, ultimately, as our category has evolved, we believe Nike football can serve the needs of footballers on and off the pitch."
Nike bought Umbro, which lost the contract to make the England football team's kit to Nike in August, in 2007.
Iconix boss Neil Cole said he was "thrilled" to be taking over the brand. "Umbro is an exciting acquisition with more than 30 licensees in over 100 countries with a devout following."