Federal Reserve says US unemployment 'elevated'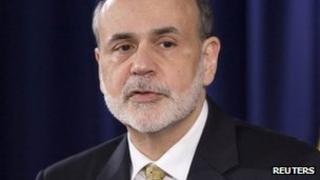 The Federal Reserve has reiterated that the US economy is only growing slowly, and that the country's unemployment rate "remains elevated".
Yet it added that the housing market had "shown some further signs of improvement".
The comments came as the US central bank kept interest rates on hold at between zero and 0.25%, as had been widely expected.
The Fed is also continuing with a third round of quantitative easing (QE).
Under QE a central bank pumps fresh money into the financial system to try to boost lending, and through that the wider economy.
As announced following the Fed's September rate-setting Federal Open Market Committee meeting, it is buying $40bn (£25bn) of mortgage-backed securities per month, for an open-ended period.
The Fed has previously spent $2.3tn over two rounds of QE.
Joseph Trevisani, chief market strategist at Worldwide Markets, said: "No change in Fed policy was anticipated and none was delivered."