Greece to get bailout extension, says finance minister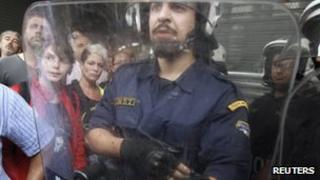 Greece's Finance Minister, Yiannis Stournaras, says the country has been given more time to hit bailout targets.
Greece had been asking for two more years to meet the spending cuts demanded by international creditors.
Despite Mr Stournaras' comments, European Central Bank (ECB) president Mario Draghi said later he was unaware that an extension had been agreed.
Greece is having to meet the austerity targets in order to receive its bailout instalments.
Mr Stournaras said the measures would go before parliament next week.
"Today, we obtained the extension," he told MPs, without specifying how much extra time Athens had been granted.
'Not finished'
The government has been negotiating with representatives of the European Union, International Monetary Fund and ECB about signing off the release of more money from the 130bn-euro (£105bn; $168bn) rescue package, the second multi-billion euro bailout that Greece has been granted.
At stake is whether Greece should receive the next tranche of its second bailout, worth 31.5bn euros. Without it, the country risks running out of money by the end of next month.
Speaking to reporters in Berlin, Mr Draghi said: "The [latest Greek] review is not yet finished.
"I understand progress has been made, but some parts need to be defined, and I don't know anything more than that."
Greece's recession is the deepest in Europe. The most recent figures show its economy shrank by 6.2% in the second quarter of the year.
Prime Minister Antonis Samaras's New Democracy party leads a coalition government which also includes the socialist Pasok and the small Democratic Left party.
The two junior partners in the government have yet to support the latest austerity measures and will make up their minds once they have studied the details.