UK tax rules face EU court scrutiny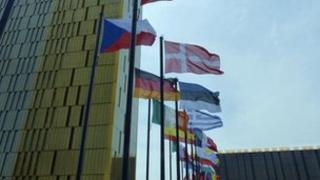 A court will decide whether the UK has "disproportionate" differences in two tax rules for those operating within the EU and within the UK.
The first relates to income tax levied on an UK resident who invests in a business in the EU.
The second relates to the difference in capital gains tax rules if a UK company has a domestic subsidiary, compared with having an EU subsidiary.
The European Commission sent the cases to the European Court of Justice.
The Commission believes that the UK's current rules are disproportionate, as they go beyond what is needed to prevent tax abuse or avoidance.
In the first case, the Commission said that when UK residents invest in a UK company, they do not face any income tax until they are paid a dividend by that company.
However, if they invest in a company in another EU member state, they are liable to pay income tax on any income the business generates from their investment.
In the second case, a parent company in the UK faces capital gains tax for its subsidiaries in other EU states, but not for subsidiaries located in the UK.