Huggies nappies abandoned in Europe by Kimberly-Clark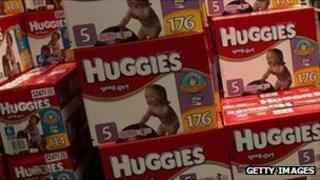 Kimberly-Clark is to stop making and selling Huggies nappies in Europe, except for Italy.
The company has decided to concentrate on non-fastening nappies such as pull-ups and will continue to make Huggies-branded wipes and Little Swimmers.
As a result, it will be closing a number of plants, putting 1,300-1,500 jobs at risk across Europe.
In the UK, it will close its nappy mill in Barton near Hull and part of its facility at Flint in Wales.
The closures threaten 378 jobs at Barton and 60 in Flint.
Kimberly-Clark Professional's Delyn facility, which makes hand towels, is the only part of the Flint plant that will be affected.
The nappy mill at Calatayud in Spain, the toilet tissue plant in Alanno in Italy and the tissue plant at Klucze in Poland will all be sold.
The announcement came with the release of Kimberly-Clark's results for the three months to the end of September.
Net income came in at $537m (£335m), up 17.2% from the same period last year.
Net sales were down 3%, but profits were boosted by $100m of cost savings.