Eurozone business activity hits fresh low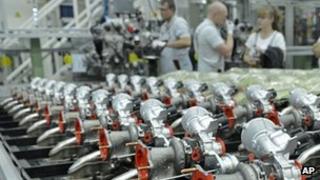 Business activity in the eurozone contracted at its fastest pace in almost three-and-a-half years in October, a survey suggests.
The Markit Flash Eurozone Purchasing Managers' (PMI) Composite Output Index fell to 45.8, from 46.1 in September. A figure below 50 indicates contraction.
The reading is consistent with a quarterly rate of economic contraction in the bloc of 0.5%, Markit said.
Firms also continued to cut employment, but at a slightly slower rate.
The figures represent an initial estimate based on 85% of the normal number of monthly responses, and so are likely to be revised slightly.
Earlier, PMI figures collected by HSBC bank showed that manufacturing activity in China in October slowed at a slower pace than in previous months. The country's PMI hit 49.1, up from 47.9 in September and the highest level in three months.
Separately, a survey by the UK's CBI business group found that manufacturing orders in the three months to October fell in the UK, while output from the sector was flat. The balance between those companies that saw output rise and those that saw it fall hit its lowest level in three years.
However, manufacturers said they expected a modest recovery in output in the next three months.
'Clear deterioration'
The rate of decline in the services sector eased in the eurozone, to 46.2 from 46.1 in September, but in manufacturing the rate accelerated, to 45.3 from 46.1.
Despite the easing in services, optimism in the sector deteriorated, suggesting employment would be cut further, Markit said.
Europe's industrial powerhouse, Germany, saw output contract faster, with car exports particularly weak. France, the eurozone's second largest economy, saw a "steep contraction" in overall business activity.
"The eurozone has slid further into decline at the start of the fourth quarter," said Markit's chief economist Chris Williamson.
"Official data have showed surprising resilience over the summer compared to the survey data, but the underlying business climate has clearly deteriorated markedly in recent months.
"While GDP may decline only modestly in the third quarter, a steeper fall looks to be on the cards for the fourth quarter."
'Unpleasant surprise'
The eurozone economy contracted by 0.2% between April and June, having recorded no growth in the first quarter.
Many economists expect official figures, released in the middle of November, to show a further contraction between July and September, pushing the bloc back into recession.
"October's decline in the eurozone composite PMI is an unpleasant surprise and reinforces concern that the economic downturn in the region may be deepening and widening," said Martin van Vliet at ING.
Eurozone economies are struggling as governments focus on reducing debt levels following the financial crisis by cutting spending and increasing taxes, measures that are undermining growth.