Pensioners' income on the rise, says ONS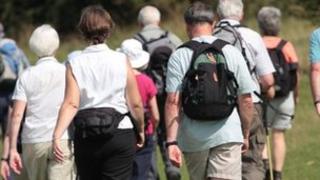 Most pensioners are considerably better off than the previous generation, with incomes rising nearly every year since 1977, official figures show.
But this extra income is not spread across all pensioner groups and there are question marks over future generosity of occupational pensions.
Figures show that average disposable income for retired households was two and a half times higher in 2010-11 than in 1977, taking inflation into account.
Private pensions aided the increase.
Age difference
The Office for National Statistics (ONS) studied households in which the income of retired household members accounted for the majority of all income. These are referred to as retired households.
The data shows that average income for this group grew in almost every year since 1977.
However, in contrast, working-age households' incomes tended to rise during times of economic growth and stagnate during recessions. As a result, these households' incomes have risen slower than pensioners' - up 2.12 times, compared with 2.68 times for retired households since 1977.
Figures released on Tuesday showed that the current economic crisis had hit incomes hard. National income per head had fallen by 13% between the start of 2008 and mid-2012, the ONS said.
Many people currently in work are also seeing an erosion in the potential benefit of their workplace pensions, as employers and the government reduce the generosity of occupational pensions, often by closing final-salary schemes.
Inequality
With income from the state pension, benefits and private pensions having risen, the average disposable income for retired households reached £17,700 in 2010-11.
However, the rise in this average income was not spread across richer and poorer households.
The ONS said that income inequality among pensioner households had become much more pronounced between 1977 and 1991, but narrowed gradually thereafter.
This meant that many pensioners still lived with "modest" levels of income. In 2010-11, some 45% of single pensions received less than £10,000 in income from the state pension, benefits and any private pension.
Nearly a third of pensioner couples had an income from the same sources of less than £15,000.
Older women pensioners generally received lower amounts of income from a private pension than younger female pensioners, the ONS said.
A series of statistical publications have been released by the ONS outlining the state of pensioners' incomes and expenditure up to the middle of last year.
These also reveal how investments have generally failed to pay off for today's pensioners. Income from investments has fallen since 1991 to a level only just higher to that seen in 1977.
'Headwinds'
Accountants have warned the next generation that they need to plan ahead for their retirement.
A new system that automatically enrols workers into saving for a pension is just coming into force. But accountants PricewaterhouseCoopers (PwC) estimate that a new female graduate being auto-enrolled on the minimum requirements will only receive a third of her final salary as a pension, even after saving for her entire working life.
"Despite retired households now generally being in a better position; people yet to become pensioners still need to be doing more to save enough for a comfortable retirement. For most current workers, relying on pension payouts from their workplace schemes and the state will not be enough for the type of retirement they might expect to enjoy," said Raj Mody, head of pensions consulting at PwC.
"The current and future generations of workers already have a number of headwinds to deal with, including greater personal financial strains and debt, a sluggish economy with lower investment returns on savings and downgraded occupational pension schemes.
"On top of this, they will have to save even more to cover increasing longevity, which could mean that they receive less inheritance as their parents' wealth is used to cover their own longer life expectancy."
David Robbins, of consultants Towers Watson, said: "If you take away the causes of rising pension income, the effect will disappear too.
"Most final-salary pension schemes have closed to new members and only one third of private sector employees are currently saving in any kind of workplace pension."
This might lead to people working for longer, he added.