Microsoft hit with formal warning on browser choice from EU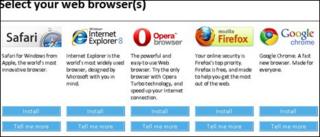 The European Commission has given Microsoft a formal warning for failing to obey an order to give customers a choice of internet browsers.
The tech giant was told three years ago it must offer users something other than its own Internet Explorer browser to access the internet.
Microsoft promised to promote choice, but in July the Commission warned it it had not done enough.
The penalty for breaching competition law is a fine of up to 10% of revenue.
Three months ago, Microsoft, which had promised to offer a "choice screen" from which users could pick the browser they preferred, was upbraided by the EU's competition commissioner, who said many users had not been able to view a choice of screen between February 2009 and July 2012.
He said this meant as many as 28 million consumers might not have had the browser choice.
'Technical error'
Microsoft apologised and said a technical hitch had prevented it from offering full choice to all its customers.
It said in a statement: "We take this matter very seriously and moved quickly to address this problem as soon as we became aware of it.
"Although this was the result of a technical error, we take responsibility for what happened."
Microsoft has four weeks to respond to the charges, after which the Commission will decide whether a fine is appropriate.
Separately, EU regulators said they did not have any reason to open an investigation into Microsoft's operating system for its tablets.
The Commission said in July it had received complaints that the company allowed only its own Internet Explorer browser to be installed on devices running Windows 8 on Windows RT tablets.
To date, the European Union has fined Microsoft 1.64 billion euros (£1.29bn) for various breaches of its laws.