Ford confirms plans to close Belgian factory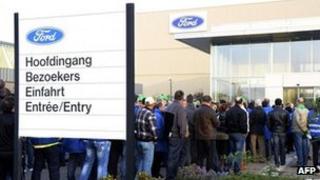 US car giant Ford says it has started consultations on closing its factory at Genk in Belgium with the loss of 4,300 jobs to cut costs.
The firm told the unions it was looking to close the factory, which makes the Mondeo and S-Max models, in 2014.
Separately, Ford would neither confirm nor deny reports that it is to close its plant in Southampton which makes the Transit van and employs 500 people.
However, the BBC understands that its closure will be announced on Thursday.
The company issued a statement saying it was "premature to discuss" details of what the plans may be for the Southampton plant, but the announcement that it is to shut is expected following a meeting between the company and UK union officials.
The Swaythling plant has been open since 1972.
Last month, Ford warned of job cuts in Europe in response to weak sales.
Ford said its European operations could suffer losses of $1bn (£630m) this year, so it would review "all areas of the business to address the near-term challenges while ensuring we are building a strong business for the future".
Unite assistant general secretary, Tony Burke said: "This is a very worrying time for the UK workforce. Unite is currently working hard alongside its European colleagues to get clarity about Ford's plans but the union will not be adding to the current speculation."
Falling sales
Announcing the plans to close the factory in Genk, Stephen Odell, chairman and chief executive of Ford Europe, said: "The proposed restructuring of our European manufacturing operations is a fundamental part of our plan to strengthen Ford's business in Europe and to return to profitable growth."
He added that the company understood the impact the potential action would have on the workforce and those connected to them and said that, if the restructuring plan was confirmed, it would will put in place measures and support to lessen the impact for those affected.
As well as the workers at the plant, trade unions said that at least 5,000 jobs would go among subcontractors.
As well as Belgium, Ford has plants in Germany, Spain and the UK where it employs 15,000 workers.
Ford's sales fell almost 10% in Europe during the first half of 2012, to its lowest level in 17 years.
The company wants to reduce labour costs and improve plant utilisation in Europe. The region accounts for 25% of Ford's sales, but industry watchers say it uses less than 65% of its capacity there.
Union representative Luc Prenen said that Ford would transfer production of the new versions of the Mondeo and S-MAX marques to its plant in Valencia in Spain.
The Genk plant was expecting to start producing the new Mondeo in October next year.
French carmaker PSA Peugeot Citroen is also struggling amid Europe's economic downturn.
It said on Wednesday it was looking for 11.5bn euros (£9.3bn, $14.9bn) in new financing for its car loans division.