Nintendo cuts profit forecast for the year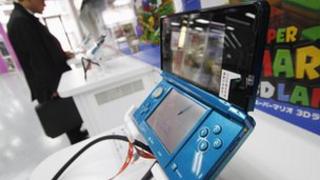 Japanese game giant Nintendo has cut its profit forecast for the year by a third, despite reporting much-reduced first-half losses.
The company, which makes the Wii gaming device, says it expects annual profits of 20bn yen ($250m, £158m), down by a third on its July forecast of 35bn.
The downgraded forecast comes despite figures from Nintendo showing an improvement in operating losses.
It lost 29.2bn yen in the six months to September, down from 57.3bn in 2011.
Nintendo, the creator of the Super Mario character which began making playing cards around 100 year ago, has seen sales of its gaming devices hit by the rise of smartphones.
Next month, the company is launching the Wii U, its first new games console in six years.
It is an updated version of its original Wii device, the first to use a wand-like controller that could be manipulated like sports equipment.
That launched in 2006 and has sold 100 million units.
The new device will have a touch screen, similar to a tablet computer, will have a social network and allow users to record TV programmes
It says it expects to sell 5.5 million of these by March next year.
Meanwhile growth in the smartphone market helped Korea's LG Electronics to a third-quarter profit.
The company, which is also the world's second-largest maker of televisions, reported third quarter operating profits of 221bn won ($200.3m).
This contrasts with a 32bn won loss a year ago when a 140bn won mobile loss wiped out profits made by sales of TVs and other home appliances.
However, its mobile phone business made a profit of 20.5bn won in the third quarter this year.