China manufacturing contracts at slower pace, HSBC says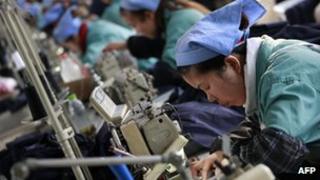 Chinese manufacturing showed signs of recovery in October, shrinking at a slower pace than in previous months, according to a report by HSBC.
The bank's influential purchasing managers index (PMI) hit 49.1 this month, compared with 47.9 in September
That is the PMI's highest level in three months, helped by a pick up in new orders.
The figure is the latest to suggest an improvement in the world's second biggest economy.
In September industrial production rose a better-then-expected 9.2% from a year earlier, the first rise in four months.
Exports and retail sales also improved.
"The report confirms recovery in Chinese manufacturing seen in September industrial output data, and overall recovery of gross domestic product growth," said Dariusz Kowalczyk, senior economist at Credit Agricole CIB.
"We continue to believe that gross domestic product growth momentum will keep improving in sequential terms," Mr Kowalczyk said.
Broader view
HSBC's purchasing managers index is not the official report on China's manufacturing index.
However, a number of economists and analysts follow it, saying it gives a broader view of what is happening in industry.
A reading above 50 in the index indicates an expansion in manufacturing activity. The last time HSBC's index was above 50 was 12 months ago.
The official PMI figures for October will be published on 1 November, the same day HSBC releases its final results.