SK Hynix swings to profit in third quarter on cost cuts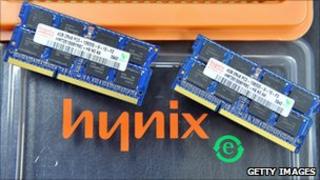 SK Hynix, the world's second-largest memory chipmaker, has reported a quarterly profit, helped by cutting costs to offset a slowdown in demand for personal computers.
SK Hynix said its net profit was 2bn Korean won ($1.8m; £1.1m) for the three months to September.
That compared to a loss of 563bn won for the same period last year.
Chipmakers have had to move away from dynamic random access memory, used in PCs.
Changing tastes
It comes as consumer trends shift from personal computers to tablets and smartphones.
That has forced chipmakers to move production towards NAND flash memory chips, which are used in mobile devices.
Hynix said sales of its mobile chips and flash memory devices helped limit the impact from the downward trend in demand for PCs.
Hynix reported a better-than-expected operating loss of 15bn won, compared with a 277bn won loss a year earlier.
Samsung, also a South Korean firm, is the world's largest producer of memory chips.