Global shares fall on earnings and Spain concerns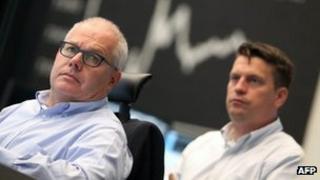 Share indexes have fallen on both sides of the Atlantic after weak results from two large US companies, and more bad news for the Spanish economy.
With US manufacturer 3M and chemicals group Dupont both missing profit targets, Wall Street's Dow Jones index lost 1.8%.
In Europe, France's Cac ended down 2.2%, while the UK's FTSE gave up 1.4%.
The falls came after Spain's central bank said the country's economy had contracted further.
The Bank of Spain estimates that economic output fell by 0.4% in July to September.
Investor concern about the Spanish economy was increased further by credit rating agency Moody's downgrading five of the country's regional governments.
Germany's Dax index ended down 2.1%, while Spain's Ibex lost 1.6%.
"Investor sentiment has definitely changed from just a couple weeks ago, when everything was received as good news, to fear [today]," said James Dailey, portfolio manager at Team Asset Strategy Fund in Pennsylvania.
"We've been hit today again with the harsh reality, which is weak results and ongoing problems in the eurozone."
Shares in Dupont were down more than 8% after it reported a sharp drop in quarterly earnings, while 3M saw its shares fall by 3.3%. They were just the latest US firms to disappoint with their results for the three months from July to September.
"Clearly US companies are feeling the pain as a result of the global slowdown," said Bernard Baumohl, managing director at the New Jersey-based Economic Outlook Group.