BAE Systems investors call on chairman Olver to go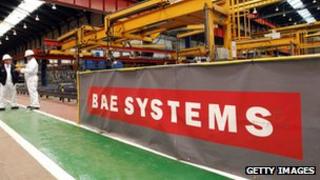 Leading shareholders in BAE Systems have called on the chairman and a senior director to resign following the failed proposal to merge with EADS.
Invesco Perpetual and two other investors said in a letter that Dick Olver and senior non-executive Sir Peter Mason should step down.
The investors, who account for 18% of BAE, said the time had come for a change in strategy and governance.
BAE said it remained "fully supportive of its directors".
The call for boardroom change by Invesco and the other two as-yet-unnamed shareholders is a highly unusual move.
A merger with BAE would have created a huge defence and aerospace group, with combined sales of around £60bn. The negotiations failed earlier this month amid accusations that the German government blocked a merger.
During the defence giant's merger negotiations with the Franco-German aerospace group, Invesco said it would vote against the proposal.
But Invesco also felt that BAE had good prospects as a stand-alone business, building up its security operations and exploiting further defence contracts in the Middle East.
A source close to the shareholders told the BBC that BAE's focus on acquisitions and investments in the US had not paid off. He said that Mr Olver and Sir Peter had now been at BAE for many years, and that it was time for a "refresh".
Mr Olver and chief executive Ian King have sought to reassure investors that the group can still "prosper in the future" despite the deal's collapse. But the investors' letter to the BAE board suggests scepticism among shareholders that the current board can revive the business.
In a recent open letter, the chairman and chief executive said they did not "regret" the failed bid.
BAE said in a statement that it remained "fully supportive of its directors", adding: "We are in regular dialogue with our major investors and we listen carefully to the views of all our shareholders.
"The company is aware that a minority of its institutional investors have recently made public their own views on board succession planning, which differ widely from those of the board and the majority of the company's principal shareholders.
"The company intends to continue with its established succession plans described in its last annual report, including the appointment of a successor to Dick Olver as chairman following an appropriate process to identify the best candidates."
Mr Olver has been chairman for more than eight years, while Sir Peter was appointed in 2003.