Day of action for Malala and girls' right to school
By Gordon Brown
UN Special Envoy for Global Education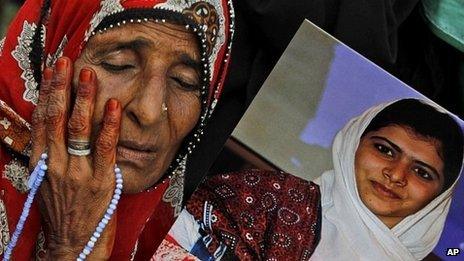 Almost one million people worldwide have signed their name to call on both the Pakistan government and the United Nations to achieve Malala Yousafzai's aim - that every girl has the opportunity to go to school.
Two weeks on, the wave of support for the 14-year-old Pakistani girl shot in the head by the Taliban, shows no sign of diminishing.
Now is the time for action on the second Millennium Development Goal for universal primary education.
The events of the last fortnight have shown that the global collective willpower to deliver on this aim is there.
The words "I am Malala" are not only a defiant challenge to the Taliban but a bold assertion that every single girl and boy should have the chance of an education.
A few weeks before her shooting, Malala told friends of her determination to campaign for the 32 million girls around the world who are not at school.
By declaring 10 November - one month after the attempted assassination - "Malala and the 32 million girls day", we can start to make Malala's dream come true.
I will call for a global day of action, when I meet President Zardari of Pakistan next month to hand him our petitions and ask him to lead governmental changes in policy to secure girls' education in his and Malala's country.
For decades there has been a dangerous assumption that we are making year-on-year progress towards universal education - and yet the most recent figures published by UNESCO in their Global Monitoring Report show that 61 million children don't receive an education.
A further 200 million remain illiterate despite attending school. Equality of opportunity remains a hollow dream.
Pakistan is a case study of the challenge ahead, showing how much there's still to be done if we are to meet the Millennium Development Goal target. Some five million don't receive an education, three million of whom are girls.
This means that Pakistan has 49.5 million illiterate adults, two-thirds of them female.
What is just as shocking is that educational spending is not rising - as we might assume - but falling, from an already meagre 2.6% of Gross National Product in 1999 to 2.3%.
This represents just 9% of government spending (the equivalent figure for spending on the military is seven times higher).
Pakistan's continuing failure is sadly replicated elsewhere. In some parts of the Indian sub-continent as well as in sub-Saharan Africa, one quarter of all children are out of school, amid worrying evidence that past gains are being reversed as aid for education is cut.
Despite the recent creation of initiatives such as "child marriage-free zones" in Bangladesh, every year some 10 million girls globally are forced into loveless marriages - and out of the classroom.
Even though there was a successful Indian march against child labour, 15 million children under 14 are not in school today because they are working full time - on cocoa plantations, down mines, or carrying out other hazardous occupations.
We have around 40 months to meet our deadline for universal education. We have one chance left to deliver in these three years. If the tragic story of Malala tells us anything, it is that we must do all we can to achieve it.
Action is beginning to coalesce. Last month a new initiative, Education First, launched by the UN Secretary-General Ban Ki-moon, has brought together every UN and World Bank agency concerned with education, to offer poor performing governments, including Pakistan, a chance to deliver new school-places and train more teachers.
Every one of the countries with out-of-school children will be asked to draw up a plan setting out its precise needs in terms of teachers, school building and financing. At the core of each plan will be strategies for policing an end to child labour, enforcing the law against child marriage and clamping down on discrimination against girls.
In April next year a joint summit between international agencies and governments will be held by Ban Ki-moon and the President of the World Bank Jim Kim at which precise plans will be finalised along with timetables and budgets.
During my visit to Pakistan next month I will begin this process with the Pakistan government and work on an agreed timetable.
The demonstrations, protests and online action we have seen in the last two weeks should inspire world leaders into action in agreeing the way forward.
Malala's personal campaign may have been halted temporarily, but the millions who now speak up on her behalf must now come together as one in the run up to 10 November so that we must wait no longer for action on education.
Related Internet Links
The BBC is not responsible for the content of external sites.