Firms and households shunning new debt, says BBA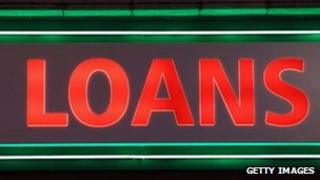 Households and businesses have "no appetite" to take on new debts as the UK economic outlook remains uncertain, a banking body has said.
Unsecured borrowing through loans and overdrafts has dropped by 7.7% in the year to September, the British Bankers' Association (BBA) said.
Firms were waiting for trade prospects to improve before borrowing, it added.
However, many small businesses have argued that banks are restricting access to credit.
"The continuing economic uncertainties both in the UK and in the Euro area are having a dampening effect on activity within firms and households," said BBA statistics director, David Dooks.
"Households are reducing borrowing requirements and have no appetite to take on more and new debt. Where they can individuals are putting money aside for household expenditure. Firms are holding back on borrowing for investment until trade prospects improve."
Retail demand
Falling levels of unsecured debt over the last year was driven by the slowdown in borrowing through loans and overdrafts.
Total overdrafts held by consumers have fallen to just over £8.3bn, the lowest in cash terms for eight years, while outstanding personal loans have dropped to £35.6bn, the lowest since the turn of the century, the BBA figures show.
Personal loans tend to be used for buying cars, improving homes and buying kitchen equipment. New borrowing, at £1.1bn in September, is running at barely a third of its level before the financial crisis.
The BBA figures show that unsecured borrowing from the major banks was down 2.5% over the year to September. However, within this, credit card debts rose by 4.8%.
Spending on plastic was higher in September than in recent months, at £7.3bn, owing to a pick-up in consumer spending in the shops.
However, the figures suggest that individuals are looking to pay off debts, especially as they see little return on savings at a time of low rates.
Some people have looked to put their money in Individual Savings Accounts (Isas) in the search for better returns, the BBA said.
Business borrowing levels continued to contract as firms waited for better trading conditions and for more activity through the Bank of England's Funding for Lending scheme, the banking body added.
This scheme is aimed at stimulating the economy by making cheaper loans available to firms and individuals from banks which get cheap funding from the Bank.
Mortgage slowdown
The BBA figures show that the mortgage market is similarly lacking in activity.
The number of mortgage approvals for house purchases stood at 31,175 in September, up slightly on the previous month but down 6% on a year earlier.
The drop in remortgaging was even greater, with approvals 15% lower than in September 2011, the figures show.
"Lack of demand and people's struggle to find deposits, rather than prohibitively high rates, are now holding the industry back," said Ashley Brown, director of mortgage broker Moneysprite.
"The cause may have changed, but the symptoms, and the pain, are the same."
Separate figures from HM Revenue and Customs (HMRC) show that the number of homes sold fell after a lift during the summer.
There were an estimated 76,000 homes sold in September, down from 92,000 the previous month. This was a similar level to May, the HMRC figures show.