Apple and Samsung chip designer Arm sees profit up 22%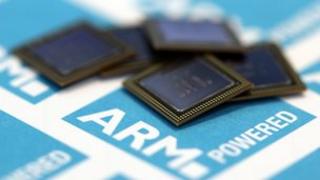 Arm Holdings, whose computer chip technology powers Apple and Samsung smartphones, has posted a 22% rise in quarterly profits to £68.1m.
At the same time, Arm's revenues went up 20% to £144.6m in the three months to the end of September.
The increase was helped by the company expanding in newer markets, such as digital televisions and hearing aids.
Shares in Arm, which said in a statement that it had a record order book, rose 2.7% in morning trading.
Chief executive Warren East said: "Arm has delivered another quarter of strong revenue and earnings growth. As we move into an ever more connected world of mobile computing, cloud-based networks and the Internet-of-Things, Arm is seeing increased demand for its high performance and low-power technology.
"This demand is helping to drive Arm's licensing revenues and this quarter we saw market leaders license Arm's advanced processor technology for next-generation super smartphones, tablets and mobile and embedded computing applications."