Eurotunnel revenues rise during Olympic Games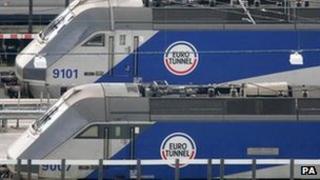 Eurotunnel has reported a rise in passenger numbers over summer, the period that included the Olympic Games.
The company, which operates the Channel Tunnel and runs Le Shuttle vehicle train, said revenue rose 13% to 274.6m euros ($358m; £224m) in the third quarter from the same period last year.
People using cars to cross the Tunnel rose by 10% to 820,484 people, but the number of coach passengers fell.
Eurostar traffic also fell during the period of the Olympics.
Passenger numbers on the high-speed train between London, Brussels and Paris fell 1% to 2.6 million between July and September, which the train operator said was because "tourists who were not going to the Games were encouraged to avoid London".
But a new daily record was also set on 11 August, when a combined total of 15,152 cars were carried across the Tunnel. The numbers of trucks crossing also grew by 17% from last year.
"This summer, on the back of a dynamic first half year, Eurotunnel again set new traffic records," said Jacques Gounon, chairman and chief executive of Groupe Eurotunnel.
The company also said that its 300 millionth passenger had travelled through the Tunnel on 18 October since its commercial opening in June 1994.
The passenger, Chris McCairns, from the south-west of England, has been given free travel for a year on Le Shuttle.