Posco lowers sales forecast amid global slowdown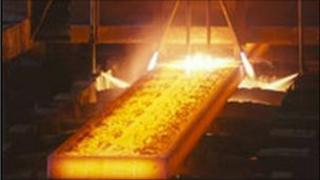 Posco, the world's fourth-largest steel maker, has cut its sales forecast as Europe's debt crisis and slowing growth in China continue to hurt demand.
The South Korean firm forecast sales of 36.3tn won ($33bn; £22bn) for the current financial year, down from its previous estimate of 37.5tn won.
It also reported a weaker-than-expected net profit of 723bn won in the July to September quarter.
On Monday, ratings agency Standard & Poor's cut its credit rating for Posco.
"In our view, macroeconomic uncertainties make it unlikely a global slowdown in demand for steel will turn around quickly," the ratings agency had said.
The slowdown, especially in China - the world's biggest consumer of steel - has not only hurt demand but also resulted in a fall in prices and dented the profit margins of steel makers.
Standard & Poor's warned that slowing growth in China may squeeze profit margins further at firms such as Posco.
"We expect spare steel capacity in China to be significant and, as a consequence, an overflow of steel into neighbouring countries such as Korea to continue to be the main culprit behind lower profitability in the regional steel industry," it said.