Kingfisher Airlines offers striking workers salary deal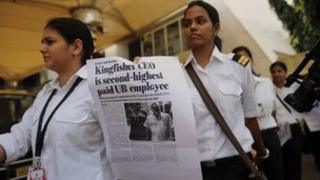 India's Kingfisher Airlines has offered to pay three months of salary to its striking employees in an effort to restart its operations.
The staff, who have not been paid for seven months, went on a strike three weeks ago, grounding aircraft.
Since then, the government has suspended Kingfisher's licence because of concerns about finances and safety.
Regardless of any deal with staff, it will only be allowed to fly again if it outlines plans to secure its future.
"The intention is everyone should be back at work in a day or two," Sanjay Aggarwal, the airline's chief executive was quoted as saying by the Reuters news agency.
Capital infusion?
The airline has never made a profit since it was launched in 2005 and has a debt of $1.4bn (£870m).
Amid its financial problems, Kingfisher has not been able to pay its dues to airports, tax authorities and its lenders.
To make matters more difficult for the airline, banks have refused to extend any fresh loans to the carrier, raising doubts about how it will be able to finance its operations going forward.
However, the airline said that it has been talks with various parties about fresh capital infusion.
"We are continuing discussions on recapitalisation. Those discussions slowed down but they are not stalled," Mr Aggarwal said.
Last month, the government allowed foreign investment of up to 49% in domestic airlines, a move that Kingfisher had been lobbying for.
The airline has said previously that it was in talks with foreign investors, including airlines, to acquire a stake in the carrier.