Australia's GrainCorp weighs takeover offer from ADM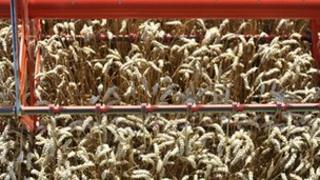 Australia's largest grain merchant, GrainCorp, is reviewing a takeover offer from the US conglomerate Archer Daniels Midland (ADM).
ADM has offered $2.77bn (£1.73bn). GrainCorp shares climbed 39% to Aus$12.30 in Sydney on Monday.
Agricultural companies have become takeover targets because of rising demand for food from emerging markets.
As living standards have risen in Asia, for example, consumers are changing their diets.
ADM, the world's biggest processor of corn, already owns 14.9% of GrainCorp.
Analysts said ADM is looking to GrainCorp to help it get into fast growing Asian markets. It would certainly enhance the American company's business, which earns more than half of its revenue in the US.
Higher offer?
The extreme spike in GrainCorp's share price signals that investors believe the business is worth more than the American company has offered.
"The market is expecting that there will probably be a higher offer. The offer from ADM is only indicative at this stage," said Morningstar analyst Peter Rae.
Others pointed out that ADM might face competing bids for GrainCorp.
"Given the strategic value of the assets and this is the last remaining Australian grain company in public ownership, we believe there could be other interested parties, such as global grain companies or an Asian buyer," said Mark Wilson, from Deutsche Bank, in a note to clients.
Australia is an exporter of many key commodities and it is the world's second largest exporter of wheat.