Nationwide link to RBS branch sale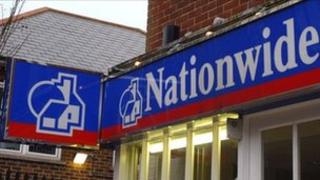 Nationwide could join the UK's most powerful business banks if it successfully bids for hundreds of RBS and NatWest branches.
RBS had planned to sell 316 branches, which serve hundreds of thousands of business customers, to Santander but the deal collapsed earlier this month.
Nationwide said it "did not comment on rumour or speculation".
But a source close to Nationwide revealed that senior managers were watching the situation with interest.
If Nationwide bought the branches, it would be the first significant foray into banking for small and medium-sized businesses by a building society.
Business customers
RBS and Lloyds are being forced by the European Commission to sell branches, after they benefited from multi-billion pound rescues by British taxpayers.
Lloyds has already agreed to transfer 632 branches to the Co-op Bank for £750m.
If Nationwide managed to purchase the RBS portfolio, it would jump ahead of the enlarged Co-op in the premier league of banking. With more than 1,100 branches, it would be little more than 100 behind HSBC, though RBS would still have 1,758.
A deal would include 310 RBS outlets in England and Wales and six NatWest branches in Scotland, which serve 1.8 million personal customers.
But it is understand that a key attraction for Nationwide would be the business banking included in the package.
RBS has promised to move the accounts of 245,000 small and medium-sized businesses to the buyer, along with 1,200 larger firms' accounts.
Lending rule
In May, Nationwide unveiled plans to move into the small business market, saying it already had enough branches to have a serious impact across the UK, combined with long experience of operating current accounts.
This year saw the launch of Nationwide savings accounts targeted at business customers and a range of fixed rate bonds.
Building societies are constrained by a rule which lays down that 75% of their loans have to be secured on residential property.
Several have dabbled in lending for commercial building projects, sometimes with disastrous results. Yet a move into day-to-day banking for small businesses might be less risky.
The chances are that it would be welcomed in the Treasury, where ministers are keen to bring in more banking players intent on helping businesses grow.
Nationwide would benefit from the fact that the price of the RBS branches appears to have dropped, along with the sagging economy. Initially, they were expected to fetch £1.65bn. Current speculation has it that £650m is more likely.
The building society would not be the only bidder. Virgin Money and the private equity firm JC Flowers are running their calculators over the 316 branches as well.