Benefits warning over workers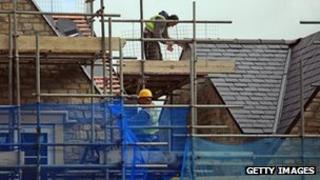 Workers are increasingly depending on benefits to pay their rent, the body which represents English housing associations has warned.
The National Housing Federation says a failure to build homes has led to an 86% rise in UK workers claiming housing benefit from May 2009-May 2012 because of soaring rents and house prices.
It has called for a solution for the "millions of families" affected.
The government said it would "pull out all the stops to get Britain building".
The NHF cites Department for Work and Pensions figures that show 903,440 people in work claimed housing benefit in May 2012 compared with 485,610 three years earlier.
It said that figure was rising with an additional 10,000 working people each month claiming housing benefit to help to pay their rent.
NHF chief executive David Orr said the housing market was "at the point of no return".
"These people are the strivers the government wants to help, yet their future is looking bleak," he said.
"Only by addressing the chronic under-supply of new homes can we stem the financial pressure on families and government."
'Joined-up approach'
The NHF, which represents 1,200 housing associations in England, said the cost of renting a home had risen by 37% in the past five years and was expected to rise by a further 35% over the next six years.
It said that, while it expected modest falls in house prices into 2013, it predicted price rises of six per cent a year across England from 2015 to 2017.
And it said that, while 390,000 new families were formed in 2011, only 111,250 new homes were built.
The NHF has called on the government "and the whole housing industry to take a long-term, joined-up approach to tackle the market difficulties".
"More immediately the government must release publicly-owned brownfield land to housing associations so they can build more houses," it said in its report.
It said it had used the government's own data to identify "land equivalent to twice the size of Leicester that could be built on".
Loan guarantees
Campbell Robb, chief executive of housing charity Shelter, meanwhile, said that it spoke "every day to young people and families who are paying the price for a housing crisis that's been left to reach boiling point".
"If we want to protect the next generation from a life lived under constant threat of eviction or rent rises, we have to invest in building more good quality, affordable homes," he added.
Housing Minister Mark Prisk said that, "with over three million people relying on the private rented sector for their housing needs, we are determined to attract new players to the market and pull out all the stops to get Britain building".
"That's why we're offering £10bn in loan guarantees to provide up to 15,000 new homes for rent, putting £19.5bn public and private funding into an affordable homes programme, and why we've identified enough formerly-used surplus public sector land to sell for 100,000 new homes."
The government's Universal Credit will eventually replace housing benefits, jobseeker's allowance, tax credits, income support, employment and support allowance - formerly known as incapacity benefit - with a single payment.
The system will be "piloted" in parts of north-east England next April and will come into force across Britain for new claimants from October 2013 while existing claimants will be transferred to the new system in stages until 2017.