Good news grand slam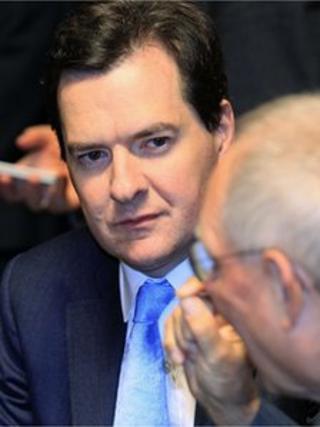 There have now been four pieces of good economic news in as many days: inflation, employment, retail sales and now the public finances have all come in better than expected.
The EU Summit even ended in (partial) agreement. No-one's cracking out the champagne, but it's fair to say that the economic picture looks brighter than it has been for a while.
The September borrowing figures will be especially welcome to the chancellor. Thanks to some encouraging growth in revenues, these show the lowest September deficit since 2008.
The Office for National Statistics has also revised down borrowing for the first five months of 2012-13 by a chunky £6.7bn, largely because spending by central government turns out to have been lower than initially thought.
You might remember the July borrowing figures caused a stink when they came out in the middle of August. Excluding the short-term effect of the transfer of Royal mail pension assets, these showed a small deficit of £0.6bn. Even in tough times, July usually shows a surplus, because it's a big month for personal and corporation tax payments.
As many noted at the time, there were short-term factors distorting the headline figure, but it was seen as another sign that the government's deficit strategy was off track.
In today's revised figures, that July deficit has been turned into a £1.75bn surplus. That's still lower than the surplus last year, but it's much closer to the £2.2bn that City forecasters were expecting to see before the 2012 figure came out.
So it looks like we needn't have been so worried after all. Except, it's worth noting that the big disappointment in the initial July figures was tax revenues. These have not been revised up. It is mainly downward revisions in spending that have pushed the month into surplus.
In fact, tax revenues - especially corporation tax revenues - are still coming in quite a lot weaker than the Treasury had hoped. Even including these good September numbers, tax revenues over the first six months of the year have been running 0.8% higher than last year, whereas the Office for Budget Responsibility (OBR) was expecting them to grow by 3.7%.
'Sounds good'
One key lesson is the public finance figures are horribly complicated and they get revised a lot. Another is that the revisions can come quite a long time after the fact.
Last year's budget deficit is a good example. Today's release revises up net borrowing in 2011-12 by £2.3bn, to £121.6bn. That sounds bad. But the new figure is itself £4.4bn lower than the OBR thought it would be, at the time of the Budget in March, when it forecast net borrowing for 2011-12 of £126bn.
That makes the new £121.6bn figure sound pretty good. Though it's worth noting that the downward revision in last year's borrowing since March has a downside for the chancellor, because the official borrowing forecast for this year is still £120bn.
He wouldn't have to come in far above his initial forecast for Ed Balls to be able to say that the deficit was rising, not falling, under the coalition (sorry, but I told you nothing on this subject was simple).
How likely is it that the OBR will have to revise up its borrowing forecast? Well, the final big lesson is that when it comes to the public finances, it ain't over until it's over. You can't say anything definitive after six months of data, because the figures bounce around an enormous amount, even when they're not being revised.
For what it's worth, the Institute for Fiscal Studies says that borrowing for the whole year will come in £15bn over forecast if central government tax revenues continue to grow as slowly as they have in the first six months, and everything else turns out as forecast.
Others in the City, making different assumptions, reckon that Mr Osborne might be looking at an overshoot of around £6bn.
Whatever happens, we know the chancellor in his Autumn Statement is likely to be facing some difficult fiscal arithmetic for 2013 and beyond. But we can say for sure that the UK economy has had a good week. And the Treasury has had a good month.