UK public sector borrowing falls to £12.8bn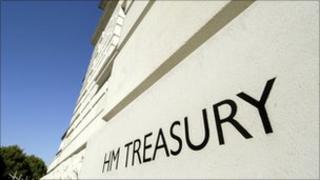 UK public sector net borrowing was £12.8bn in September, down from £13.5bn in the same month last year, the Office for National Statistics has said.
The figure is lower than analysts had been expecting, while previous months' figures for this financial year were revised down by a total of £6.7bn
August's record figure of £14.4bn was revised down to £12.8bn.
The government wants to wipe out the structural budget deficit by 2015, but analysts say this is unlikely.
Public borrowing for the financial year-to-date now stands at £38.6bn, compared with £62.8bn this time last year. This takes total government net debt to £1,065bn, equivalent to 67.9% to total annual economic output.
'Overshoot'
"[The figures are] better than expected - I think the key thing is in the revisions in the fiscal year-to-date compared to the previous estimates," said Brian Hilliard at Societe Generale.
"That's obviously very good news for the government. It's still an overshoot compared to the plans, but it does make their life a bit easier."
The independent Office for Budget Responsibility has forecast UK government borrowing of £120bn this year, but many analysts think the coalition will overshoot this target.
One reason is lower tax receipts during the recession.
The government has made reducing the country's debt levels its key economic priority and has introduced wide-ranging spending cuts to this end. However, three consecutive quarters of economic contraction have undermined its plans.
"There is an awful lot of work to be done on the public finances and one must bear in mind that underlying borrowing is increasing this year," said Philip Shaw at Investec.
"But a couple of months ago, the situation looked a lot more serious."