Comet owner OpCapita 'exploring sale'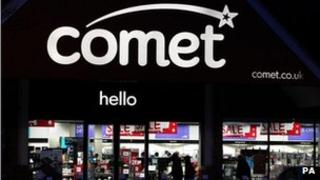 Private equity firm OpCapita, which bought electricals retailer Comet less than a year ago for £2, is already exploring bids to sell the business.
The BBC understands that, while the business has not formally been put up for sale, it is examining a number of bids from interested parties.
Comet was sold to OpCapita in February for the nominal sum of £2, with its previous owner Kesa also investing £50m into the retailer.
Comet operates 240 stores in the UK.
Sir John Clare, formerly chief executive of Dixons Retail, joined the business as chairman on the same day the Comet sale to OpCapita was finalised.
Sir John had argued that the business could be turned around, despite analyst forecasts at the time of his appointment pointing to operational losses of £35m. Its sales had fallen much further that of its peers, Dixons and Argos, over the crucial Christmas period in 2011.