Bank of Scotland fined £4.2m over Halifax mortgage errors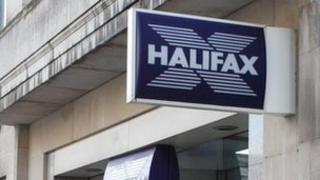 Bank of Scotland has been fined £4.2m for failing to keep accurate records of the mortgage payments of 250,000 Halifax customers.
The Financial Services Authority said the problem, which was discovered last year, had lasted since 2004.
The problem was due to the bank keeping the mortgage records on two separate computer systems, without always updating them.
The bank apologised, saying it had co-operated "fully" with the regulator.
Bank of Scotland was part of the HBOS group - along with the former Halifax bank - before HBOS itself was taken over by the Lloyds Banking Group in 2009.
Earlier, in October 2008, the bank had written to some Halifax customers, telling them it would raise the standard variable rate (SVR) 'cap' on their mortgages from 2% above the Bank Rate to 3% above it.
It subsequently did this in two stages in early 2009, by leaving the SVRs stable while bank rate fell.
Under pressure from the FSA, the bank later realised that its original mortgage offer documents, which had been supplied to some customers, had been confusing about the extent to which such capped SVRs applied, or could be altered.
Last year, after further discussions with the regulator, the bank tried to put things right, including a plan to make goodwill payments to the mortgage borrowers who had been misled.
However, then the bank made further errors.
Firstly, 250,000 borrowers were left out of the scope of the rectification programme because their mortgage details were not recorded properly.
Of those, 160,000 were initially not paid the goodwill payments they were due, which were worth £162m.
The FSA said those payments might never have been made by the bank, had it not been for complaints from customers that they had been left out.
To make matters worse, the bank also made payments - worth £20m - to nearly 23,000 customers, who should never have been included in its goodwill programme at all.
"These mistakes stemmed from the fact that Bank of Scotland had an inadequate mortgage records system meaning they could not identify which of those 250,000 customers were subject to a cap on their standard variable rate," said Tracey McDermott, the FSA's director of enforcement and financial crime.
"There was no structure in place to identify errors as they occurred and no checking procedures thereafter.
"In a complicated organisation where several legacy systems exist, firms have to make sure they are synchronised, otherwise it is their customers who suffer," she said.