Barclays sets aside £700m more to cover PPI claims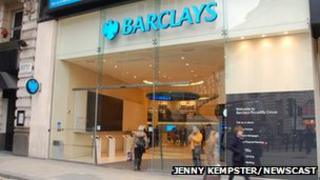 Barclays has set aside extra money to cover claims for mis-sold payment protection insurance (PPI).
The bank has decided it will need another £700m on top of the £1bn set aside in 2011 and the £300m in the first three months of 2012.
It said it had received more claims than it had expected.
PPI was supposed to protect customers who lost their jobs or became ill while repaying loans, but was widely mis-sold to those who did not want or need it.
Barclays' third-quarter results are due out on 31 October.
The bank said that, even with the extra provision, it expected its three-month profits to be in line with market expectations of £1.7bn.
The extra money takes Barclays' provisions for PPI mis-selling to £2bn and takes the total amount set aside across the industry to more than £10bn.
'New cases'
It means Barclays has made the second biggest provision, behind Lloyds Banking Group, which has set aside £4.275bn.
RBS has set aside £1.335bn and HSBC has made a provision of £1.087bn.
Barclays' announcement suggests that other banks may be forced to increase their provisions.
Last month, the Financial Ombudsman Service, which mediates in cases where complaints cannot be resolved, said there had been a big increase in the number of complaints.
Its chief executive, Natalie Ceeney, said: "The volume of PPI complaints doubled in the first half of 2012 - and has continued to increase since then with up to 1,500 new cases now arriving each day."
Barclays said the extra £700m was its best estimate of how much it would have to pay out, based on its experience of dealing with claims so far.