Rents rise 1.1% to a new record, says LSL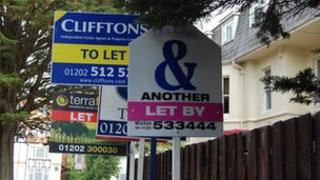 The cost of renting a home in England and Wales rose by 1.1% in September to reach a new record high, a survey has suggested.
LSL Property Services, which owns the Your Move and Reeds Rains property chains, said that the average rent was now at £741 a month.
This was 1.1% higher than August and 3.2% up on the same month a year earlier.
Rents rose in seven different regions, at a peak time of tenant demand.
This was driven by increases in London and the South East of England, the survey said.
"Rents have risen consecutively for half a year as tenant demand strengthens on the back of a historically subdued mortgage market," said David Newnes, of LSL.
"However, every pound monthly rents go up by is another pound that renters cannot save for a deposit for their first home. This is lengthening their stay in rented accommodation, and increasing competition in the private rented sector."