Morgan Stanley reports $1bn loss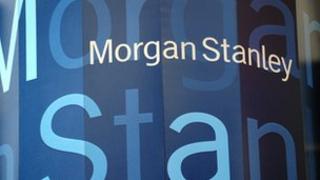 US investment bank Morgan Stanley has reported a net loss of $1bn (£600m) for the three months to the end of September.
It had made a profit of $2.2bn in the same quarter the previous year.
But much of the reported loss was due to accounting changes linked to the changing values of the debt it holds.
Excluding the effect of those accounting changes, Morgan Stanley made a profit of $561m, up from $68m in the comparable period of 2011.
Also excluding those charges, revenue rose 18% to $7.5bn, which was better than had been expected.
Morgan Stanley also confirmed that it had completed the purchase of an additional 14% stake in the Morgan Stanley Smith Barney joint venture from Citigroup, taking its holding up to 65%.
Revenue rose in most of the bank's business areas, with particularly strong growth in the asset management unit.
The bank's shares rose in pre-market trading in New York.