UK shoppers pay more, get less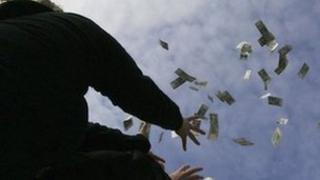 Welcome signs of life from UK consumers today. But the latest retail sales figures also show how UK shoppers have been squeezed by higher inflation in the past few years. We are spending a lot more than we were before the recession and not getting much more in return.
The volume of retail sales was 0.6% higher in September than it was in August. That means there has been a 1% increase in sales between the second and third quarter - the largest quarterly rise in two years. City economists think that is good news for next week's GDP figures.
There were some temporary factors driving people back to the shops last month. But taken with this week's employment and inflation numbers, we can perhaps see grounds for that "feel-good" factor - or "feel-no-worse" factor - among consumers, which city economists (and ministers) always expected to see in the second part of 2012.
As Chris Williamson, at Markit, points out, the "Misery Index" - inflation and unemployment added together - is now at its lowest level since the end of 2009. So retail sales might well continue to grow in the months ahead.
But no-one's getting too excited just yet. With the general economic picture so subdued, few are expecting retail sales - or any other part of the economy - to take off. Real average earnings might be falling at their lowest rate in three years, but they're still falling.
I mentioned the great squeeze in people's pay packets in my last post. A chart in today's release from the ONS well captures the other side of the coin - the great rise in the price of what we buy in the shops.
As the picture shows, our spending rose in the years before the crisis, but we were also getting more in return for that cash - more and more, in fact.
But not lately. We're still spending more, but not getting much more in return.
By my reckoning, our retail spending has risen by 12.3% since the first three months of 2008. What we actually get for that money has risen by only 1.5%.
That is the more-or-less inevitable result of the fall in the value of the pound in 2008-09, and the rise in world commodity prices in the past few years. As I've discussed in the past the world is simply a more expensive place, now, for people living in the UK. But you can see why people might not be running back to the shops.