Q&A: Energy tariff row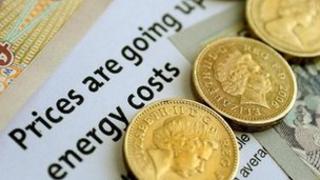 As many UK households face the prospect of rising energy bills, politicians are engaged in a row over exactly what help will be available for consumers.
At Prime Minister's Questions, David Cameron said: "I can announce... that we will be legislating so that energy companies have to give the lowest tariff to their customers."
This was a shift from previous announcements that energy companies would tell customers about the best tariff available for them.
So what is going on?
Is the best deal the cheapest deal?
This is at the heart of this debate.
In April, Deputy Prime Minister Nick Clegg said that companies would be obliged to tell people about the most suitable tariff for them and to offer it if they request it. He said seven in 10 people were on the wrong deal and paid too much.
The prompt would be in the form of a "nudging letter" which would only explain what customers are currently paying, and give examples of other tariffs from the same supplier. Customers will then need to ring for more details. This would be a voluntary agreement.
But the prime minister took this a step further by saying companies must give their lowest tariff to customers, and the government would legislate to ensure this happened.
Energy Minister John Hayes said in the Commons on Thursday that consumers would be given the chance to get the "best deal".
So it is hardly clear at the moment whether consumers will be offered the cheapest deal or more details on the "best" tariffs that they can choose from.
Why don't energy companies just offer the cheapest deal anyway?
Because that is not the way a competitive market usually works. Essentially that would probably mean only one tariff would be offered. If these were very similar, consumers are hardly likely to switch between deals and suppliers.
There is no guarantee that the tariff being offered would be as low as possible, or just an aggregate deal.
Consider the different ways to pay. Someone paying by direct debit, with no paper bills, would cost the company less that someone paying quarterly by cheque. At the moment, this means they pay a lower tariff.
Charges also vary depending on whether or not customers are on an internet-only tariff, which part of the country they live in, if they have a two-tier tariff or one with a standing charge, if the deal involves a fixed price, when the deal was launched, how long it lasts, whether they get a discount for being elderly or vulnerable, and so on.
Confusing stuff isn't it? Why has the subject come up now?
Four of the big six energy companies have announced price rises in recent weeks, adding more pressure to squeezed household finances.
They blamed the cost of government policies for the increases. Consumer groups ask why prices are all going up at the same time and say the companies need to do more to justify the rises.
With an Energy Bill in the offing, this has all become a matter of discussion among politicians.
It is no coincidence that there was a lot of noise in Westminster a year ago, because that was when gas and electricity prices were going up by up to 19%.
Back then, there was a energy summit at Downing Street, to which the companies were summoned. The energy secretary at the time, Chris Huhne, urged consumers to check that they were on the cheapest deal - a rather different tone to the Prime Minister's latest comments.
What is the energy regulator's role in all this?
Separately, it has been working on new rules for some time, concentrating on making it easier for consumers to understand the complexity of tariff choices.
Specifically, it wants all suppliers to have standard no-frills tariffs, which will be easily comparable on price alone with the equivalent tariffs offered by other suppliers.
Each firm would have one standard tariff for each of the three payment methods and per fuel. So that would mean six standard tariffs per firm.
The supplier would still be able to raise or lower its charges to the customers on these simple tariffs and would still have to give 30 days notice of any such change.
But firms could still also offer more sophisticated tariffs.
So I'm still going to have to shop around after all?
That seems very likely.
Energy tariffs can be very confusing and, some would argue, for good reason.
There are lots of variables, lots of ways to pay, and lots of choices to make.
So when some of the current political smoke clears, customers will probably see that they will not be able to just sit back and see their gas and electricity bills come down.