UK mortgage market saw slow September, lenders say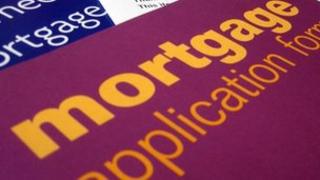 Little demand for homes and a "languishing" remortgaging market led to subdued housing activity in September, lenders have said.
Gross mortgage lending was down 10% on the previous month and 15% lower than a year earlier, at £11.6bn, the Council of Mortgage Lenders (CML) said.
This was despite a greater availability of mortgages for potential borrowers.
A separate Bank of England survey warned that a further downturn in lending may occur in the coming month.
It said that lenders had recently pointed to the new Funding for Lending Scheme for improving the availability of mortgages.
But they had warned that this might not translate into a rise in actual lending "as continuing worries about the economic outlook restrained activity".
The Bank added: "Looking ahead, the major UK lenders expected house prices in the coming months to be little changed or to decline slightly."
Low rates
Both the CML and the Bank of England said that there was a greater choice of mortgages for consumers, but there was little appetite for them.
A year ago, an increased number of homeowners had decided to remortgage. However this trend failed to take hold, especially as interest rates showed little sign of rising.
This means many people are now sticking to relatively low variable mortgage rates when their fixed rate deals come to an end.
This affected the gross lending levels - which include remortgaging - for the third quarter of the year, the CML said.
Gross lending stood at £37.3bn for the three months to the end of September, up 8% on the previous quarter, but a 5% decrease from the same period in 2011.
"House purchase demand failed to lift significantly in the third quarter, despite much better mortgage availability. Remortgage activity continued to languish, in contrast to relatively strong levels a year ago," said CML chief economist Bob Pannell.
Richard Sexton, of E.surv chartered surveyors, agreed that activity was at a low ebb.
"High loan-to-value lending accounted for less than one in 10 of all house purchase loans in September, and there were 10% fewer home loans than this time last year," he said.
"Funding for Lending has yet to jump start first-time buyer lending - historically the beating heart of the housing market.
"Even though the scheme has flooded banks' balance sheets with cheaper funds, it hasn't been enough to offset chronic macroeconomic constraints on lending," he added.