Britvic 'confident' despite Fruit Shoot recall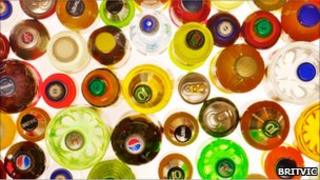 Britvic, the firm behind behind the J2O and Tango drinks, has said that a recall of its popular Fruit Shoot brand cost it about 2% of annual revenues.
However, the firm, which is in talks with Irn-Bru maker AG Barr about a £1.3bn merger, said it was confident about meeting full-year targets.
Group revenue was just over £1.2bn for the year, a fall of 0.8%, Britvic said.
Its trading was hit over the summer by poor weather and a recall of Fruit Shoot due to faulty caps.
"Following the Fruit Shoot recall in July, we have been focused on returning supply to normalised levels," said chief executive Paul Moody. "A further key brand priority has been to ensure that we build and realise the value of our emerging US Fruit Shoot business."
Despite the setbacks, "the board is confident of delivering its expectations for the full year", he said.
Britvic, which makes and sells PepsiCo brands such as Pepsi and 7UP in Britain and Ireland, said total group sales volumes were down 1.6%.
Poor trading in the final quarter in the UK and Ireland, where revenue slid respectively by 4.3% and 8.5%, overshadowed a 13.3% jump in France that was driven by price increases.
Britvic said talks with AG Barr were "ongoing", but made no further comment on the proposed deal. The all-share merger would create one of Europe's leading soft drink companies.