Japan economy: Prime Minster Noda eyes stimulus boost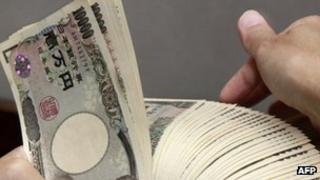 Japan's Prime Minister Yoshihiko Noda has ordered his cabinet to draw up fresh stimulus measures in a bid to spur economic growth.
Japan's growth has been hurt by falling demand for its exports amid a slowdown in key markets such as the US, eurozone and China.
At the same time, domestic consumption in Japan continues to remains subdued.
Mr Noda ordered the stimulus package to be compiled by next month, but did not give details on how big it would be.
"Considering what the government and the central bank are forecasting, I doubt we can simply stand by and let the economy continue as it is," Finance Minister Koriki Jojima was quoted as saying by the Reuters news agency.
Elections
Japan's economy grew by 0.3% in the second quarter of the year from the previous three months. That was down from 1% growth in the first quarter.
And growth is expected to remain subdued amid continued economic problems in its key markets.
The eurozone debt crisis continues to remain a threat to overall global growth, while the recovery in the US economy has been fragile and consumer confidence there remains low.
To make matters worse, China - Japan's biggest trading partner - is also seeing a slowdown in its pace of growth.
That has led to concerns that Japan's growth may be hurt further in the coming months.
The new stimulus measures have been prompted by both political as well as economic concerns, according to Masamichi Adachi, senior economist at JP Morgan.
"The government's first motivation is that the economy is close to a recession," he said.
"The second motivation is that an election is close, so the party in charge is expected to show its competence."
However, Mr Adachi added that, since the government had not given details on the size and specifics of the package, it was "difficult for anyone to think this will be effective".