Fresh signs of recovery in US housing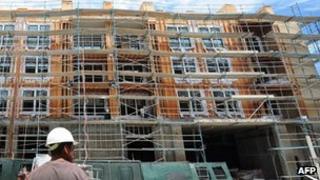 New homes were started at the fastest rate since July 2008 in September, official figures show.
The Commerce Department said single family homes and apartments were started at a seasonally adjusted annual rate of 872,000 in September, which was up 15% from the previous month.
But it is still well below the 1.5 million seen as healthy pre-recession.
The big US banks reporting third-quarter results in the past week have referred to a housing market recovery.
JP Morgan Chase chief executive Jamie Dimon said last week: "Importantly, we believe the housing market has turned the corner."
His bank set aside less money to cover bad mortgage loans, as did Bank of America, which reported results earlier on Wednesday.
"If there was any doubt that the housing market was undergoing a recovery, even a modest one in the face of the terrible 2008 decline, those doubts should be erased by now," said Dan Greenhaus, chief global strategist at BTIG.
"Today's data reinforce the view that while housing is not going to be the driver of economic activity that it was in the middle of the prior decade, neither will it be the anchor on activity that it has been in recent years."
Applications for building permits, which are an indicator of future building activity, jumped 12% to an annual rate of 894,000 in September.