Bank of America profits hit by legal costs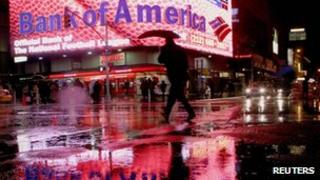 Bank of America has reported sharply lower quarterly profits, which have been hit by legal costs.
Net income for the three months to the end of September came in at $340m (£210m), down from $6.2bn in the same period last year.
The bank took a $1.6bn charge for litigation expenses in the quarter.
Last month it paid $2.4bn to settle a lawsuit brought by shareholders who said they had been misled about the acquisition of Merrill Lynch.
Bank of America merged with investment bank Merrill Lynch at the height of the financial crisis and, afterwards, experienced heavy losses.
Investors had argued that Bank of America made false or misleading statements about the financial health of the two banks.
Bank of America maintains it did nothing wrong.
The bank had already warned that it would be hit in the third quarter by a pre-tax loss of $1.9bn relating to the company's credit spreads and a further $800m due to changes in the UK corporate tax rate.
Results from the the third quarter of 2011 were flattered by a big gain from the sale of some of its stake in China Construction Bank.
Bank of America funded $21.2bn of mortgages during the period, up 12% from the second quarter and 18% from the same quarter last year.
It set aside less money to cover bad home loans, which meant its losses from the sector narrowed to $877m from $1.1bn in the third quarter of 2011.
"Our strategy is taking hold even as we work through a challenging economy and continue to clean up legacy issues," said Bank of America chief executive Brian Moynihan.
"Deposits are up; mortgage originations are up; we surpassed 11 million in mobile customers; small business lending is up 27% year over year; loans to our commercial clients rose for the seventh consecutive quarter; and our corporate clients made us the second-ranked global investment banking firm."